Fastest access to top Filipino remote talents
Work smarter. Live better. Hire a Raketeer.
How it works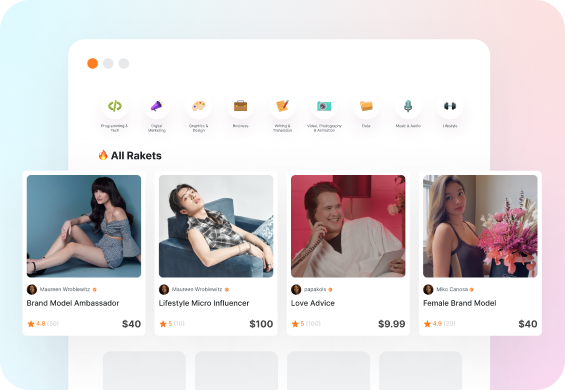 Browse Services
Identify your project needs with available services depending on your budget, time, and standard.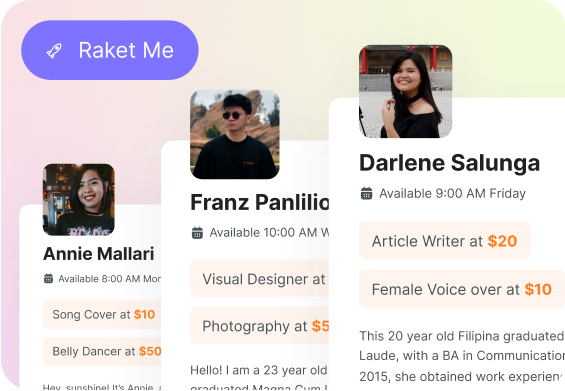 Collaborate with a Raketeer
Deal with topnotch remote Filipino talents serving freshest ideas & professionalism at its finest.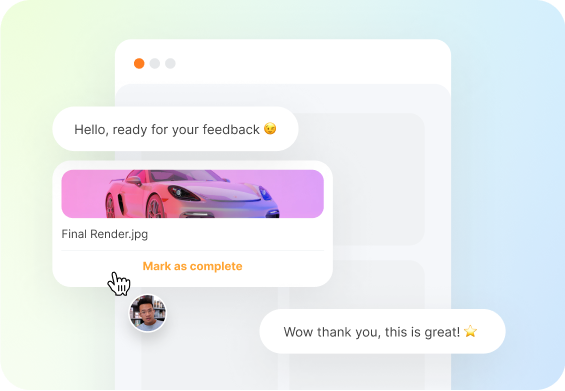 Review, approve, and rock it!
Enjoy an awesome overall experience with smooth progress tracking and secured payment processing within the platform.
Achieve great results with leading Raketeers
With 9+ years of experience and numerous recognitions under his name, JK conquers the music scene with chart-topping hits. He has also honed his skills in the fields of acting and media production.


Outsmart the work at hand.
Work with the Best
Friendly, talented freelancers you can rely on. No con-artists. No disappearing. No headaches
No Surprises
Affordable, project-based pricing. You only pay once the job is done and you're happy.
Protected Payments
Always know what you'll pay upfront. Your payment isn't released until you approve the work.
Fast Turnaround
Dependable Raketeers working on your requests with 24 - 48 hr turnaround on most projects.
Ownership of Files
You have 100% ownership of all original source files created for your project.
You Can Count On Us
Questions? Our Raket.PH support team is available to help anytime, anywhere.
Work with Filipino Pros In One Go
Discover great freelance services suited for your business needs
Hire Raketeers
Post a Gig
List my Job Opening
The Rocket Inc. dba Raket.PH is a Company registered in the Philippines with company Reg. No. CS201738408